I was supposed to do this on the 1st but I was busy! I didn't take pictures at the beginning of January (fail) like I have for the past year but that's okay!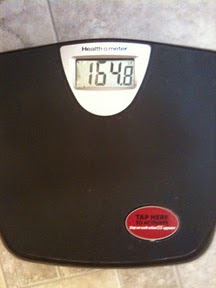 Current weight 2/5/11 is: 164.8
Bust: 34.5
Waist: 29
Hips: 39.75
Arms: 12, 11.75
Thighs: 22.75, 23
This is the lowest weight I've been in 11 years! Wooohoooo! It was tough working off those few pounds I gained while I was in Houston & New Orleans! I can't say I've been super diligent about tracking my food this week because I haven't.
I'm ready for my life to go back to a somewhat normal schedule. My workout schedule stays pretty consistent but planning my meals has become nonexistent.
I'm also giving up posting my weekly weight since I've reached my initial goal. I don't think it's necessary for me any longer. I will be doing a beginning of the month weight, stats and progress picture post though :-). I'll try to add a full body photo later!
- Posted using BlogPress from my iPhone