This Ripped in 30 DVD is a beast of a workout! Although I had taken a week of rest last week, I still wanted to try the week 4 workout this week.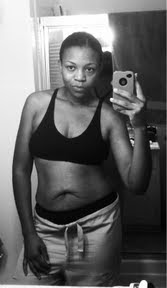 July 27, 2011
Monday I did the workout to the best of my ability. True to form Jillian Michaels does not disappoint. This was as difficult as I expected it to be! But oddly enough the cardio segments in week 4
in my opinion
are
easier
less difficult than the cardio segments in week 3. I felt the same way about weeks 2 and 3 in the 30 Day Shred DVD.
I completed the workout on Wednesday and I felt as though I got more out of it since I knew what to expect. As expected I've been sore ALL week long! Everything hurts! Workout 4 has glute work that'll have you cursing for sure!
Now that I've done all of the workouts in Ripped in 30 I can give my honest opinion. First I'd suggest doing 30 Day Shred for a month
if you're not familiar with Jillian's style
before moving up to Ripped in 30. If you want to challenge your body with short effective workouts, this is THE DVD for you!
You also might want to mute Jillian after awhile because her
coaching
can become a bit annoying! Stick with it, you'll be happy with your results for sure!
Playing in the mirror
This weeks workouts:
Mon: Ripped In 30 week 4
Tues: Turbo Fire 45 EZ
Wed: Ripped In 30 week 4
Thurs: Turbo Fire 45
Friday: Ripped in 30 week 4
Sat: REST
Sun: REST
*Side note* I bought this DVD in May and it's the end of July, I'm just now doing week 4! It may take awhile to get to week 4 but definitely give it a try!
- Posted using BlogPress from my iPhone