I successfully completed all six days of workout 1! Days 2-3 my body hurt! I was so damn sore! I took a much needed rest day on Wednesday, so on day 4 I felt rested and the workout was nice!
On Friday, day 5 for some reason I felt weak during the strength combos and ab moves? Not sure why but I struggled through a few of those exercises! Then on Saturday I completed the entire workout without modifications. I then followed up with Turbo Fire 45 class. Needless to say after that I was pooped!!
Here's a progress pic, not sure if there's a difference yet but I'm still working!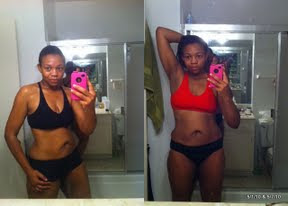 Upcoming week- I somehow hurt my right shoulder :-(! It's been bothering me for a few weeks but after pushing through this week I think I made it worse.
I took yesterday as a rest day although I was going to start week 2. I am trying to avoid making it worse so the plan is to do four days of the week 2 workout this week along with two Turbo Fire workouts.
This is a minor setback but I've dealt with worse! I'll be posting another workout update next Monday!
- Posted using BlogPress from my iPhone