I had every good intention to eat a salad seven days straight for dinner last week. Last week for me was a total wash! I ate salad three out of the seven days!
Chilled couscous salad with tomato, asian veggie pattie, bell pepper, onion, mushrooms and light soy sauce
Seasoned mango, turkey meatballs, mushrooms, bell peppers, onions, mixed field greens and Newman's Own light cranberry walnut dressing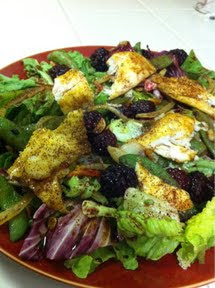 Honey mustard tilapia, blackberries, sugar snap peas, onion, mixed field greens, dark chili powder and balsamic vinegar
*I've got a confession about salad #3. I didn't love the combo! I don't think the sugar peas paired well with the blackberries. I will try it again without the peas and see how it goes?
An attainable goal for my dinner salads is 2-3 days a week. I will post my creations each time! This helps when I want to go back and recreate a particular salad flavor. Watcha think??
- Posted using BlogPress from my iPhone