My name is Miesha and I have PCOS (Polycystic Ovarian Syndrome). This is something that I have never shared with my blogging viewers. There are many things that characterize having this disorder and most often than not it is hard to diagnose.
My first OB/GYN diagnosed me with PCOS when I was 19. The first indication was my irregular cycle. She had me do a barrage of testing (for hormone levels), then sent me to a radiologist for an ultrasound.
From the ultrasound I could see the many cysts that are on my ovaries. Although not harmful, my doctor told me that conceiving a child could be a problem in the future. At that time I wasn't thinking anything about having kids so I tucked the information she gave me in the back of my mind.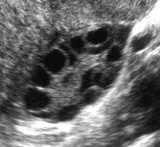 Actual ultrasound image of a Polycystic ovary
My doctor also advised maintaing a healthy weight (which I obviously did not do) because weight loss could become a constant struggle. When I was 19, I weighed the same amount that I do now so I wasn't thinking about weight gain/loss either..big mistake!
I do have quite a few of the other characteristics, acne and pesky facial hairs being the most irritating. My cycle is easily regulated with birth control pills.
When I was ready to get pregnant, my doctor prescribed clomid to induce ovulation. I know many with PCOS struggle to conceive. I was blessed with two healthy daughters from successful clomid cycles.
Outside of that, having PCOS hasn't caused me any serious health issues. Now that my weight is under control, I should be able to maintain a healthy weight. This can be done without any medication and with consistent diet and exercise.
More information about PCOS
Thank you for letting me share this, the symptoms can be a bit embarrassing to talk about if you're living with it.
- Posted using BlogPress from my iPhone