October??? Is that you??? Well I'll be damned! It's that time of the month, weigh day!
*I did actually weigh myself on the first*
10/1/11..weight 166.2
Again I wish could say I had a great September but that would be a lie and I'm a terrible liar! In my last post I mentioned my lack of motivation was due to needing a change in my workout routine.
I went to the YMCA twice last week for spinning. Without a doubt it's the change that I needed! This week I plan to spin two times, try a new cardio class and lift weights two times.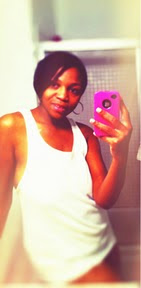 I've got a fresh new look! I cut my hair...finally!! I'm not going to bore you with progress pics this month, there hasn't been much change in my body since last month. I'm thinking about only posting progress pics quarterly now? Just a thought?
I can barely contain the excitement I have for an upcoming event next month!!! Details soon to follow :-)!
Plans for October are to schedule my weekly workouts and menus. Nothing more..nothing less!
Let's all work towards a healthy upcoming holiday season!
- Posted using BlogPress from my iPhone