So I was doing my foodie again this weekend! I wanted to make a couple of things that I've never made before. Both turned out very well and I'm excited to share!
Saturday's dinner...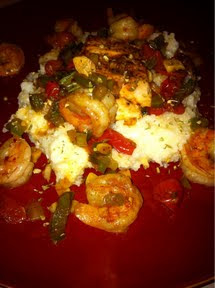 Feta & parmesan cheese grits with shrimp and salmon
Sunday's dinner...
Tofu parmigiana
The girls didn't eat the tofu (they opted for noodles) but they loved the salmon & shrimp with grits! Damn all my good cooking and no hubby to feed it to! I'm working on that!
- Posted using BlogPress from my iPhone