Foodie, foodie, foodie!! Yup I was back at it again! If you'll notice from looking at previous dishes, I heart seafood! Typically on the weekend you'll find some kind of shellfish/fish on the menu a time or two!
Friday's dinner...
Whole wheat pita pizza with shrimp, feta, asparagus, mushrooms & scallions
I can make a
mean
pizza sauce, all I need is a can of tomato paste for the base!
Saturday's breakfast...
Scrambled eggs (3 egg whites, 1 whole egg), bacon & chili powder braised squash
Saturday's lunch...
Salad with veggie burger pattie, green apple, sweet potato, scallions, mushrooms, candied walnuts & Newman's Own light cranberry walnut dressing
My salads are the BOMB!! I throw together combos that you wouldn't think would go together, yet they work! I always like a warm topping on my salads too!
Saturday's dinner...
Whole grain penne with shrimp, salmon, crushed tomatoes, bell pepper, scallions, mushrooms & roma tomato
I loved the shrimp and salmon combo SO much with the cheese grits last weekend, I wanted to pair it with a tomato base and pasta this time!
Sunday's dinner...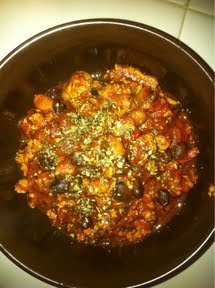 Two bean turkey chili
What would you like to see this weekend? It's Easter weekend and I'm already planning my menu for the week! Yay!!
- Posted using BlogPress from my iPhone