People ask me often, "what do you eat?" I thought it would be fun to open up my fridge/pantry to give a peek at what's inside. I enjoy eating and I have a very diverse pallet. I'm not afraid to try new foods! I have also learned to enjoy cooking in the process of my weight loss journey!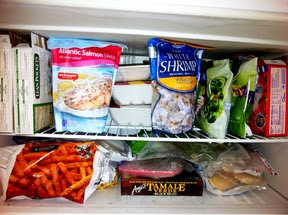 Freezer- fish, ground turkey, frozen veggies, lean pork, chicken breasts, fruit bars...etc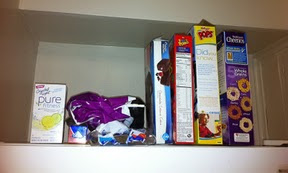 Top of fridge- kids sugary cereal, my cheerios, ww snack cakes, fitness water packets, snack size chips
Fridge- fresh fruits & veggies, bread, lunch meats, juice, water, skim milk, cottage cheese, light sour cream, corn tortillas, olives...etc
Pantry- canned beans, tomatoes, soups; applesauce, brown rice, rice vinegar, V8, Capri Suns, whole grain/wheat pasta, peanut butter, etc...
I've got other cabinets with staple items and seasonings, but I didn't want to bore you with the details :-). Typically you're not going to find junk food in my home but I do afford myself and my girls treats every so often! What's in your fridge?
- Posted using BlogPress from my iPhone